Overview
The N-Squared Service Daemon is a general purpose package providing the run-time message-passing service for various different N-Squared solutions, including the following N-Squared software products:
n2int - N-Squared IN Tester
n2srp - N-Squared SIP SRP (Specialized Resource Platform, or SIP IVR)
n2tf - N-Squared Toll-Free SCP
n2pip - N-Squared PI Plus (Scripted Multi-Protocol Provisioning Interface)
n2smd - N-Squared Self-Management Director (Self-Management via USSD & SMS)
This Technical Guide describes the installation and configuration of the N-Squared N2SVCD Service Dameon.
N2SVCD Components
The N2SVCD consists of a message-passing layer, and an extensible Application framework, which is used by the individual N2SVCD Application Components.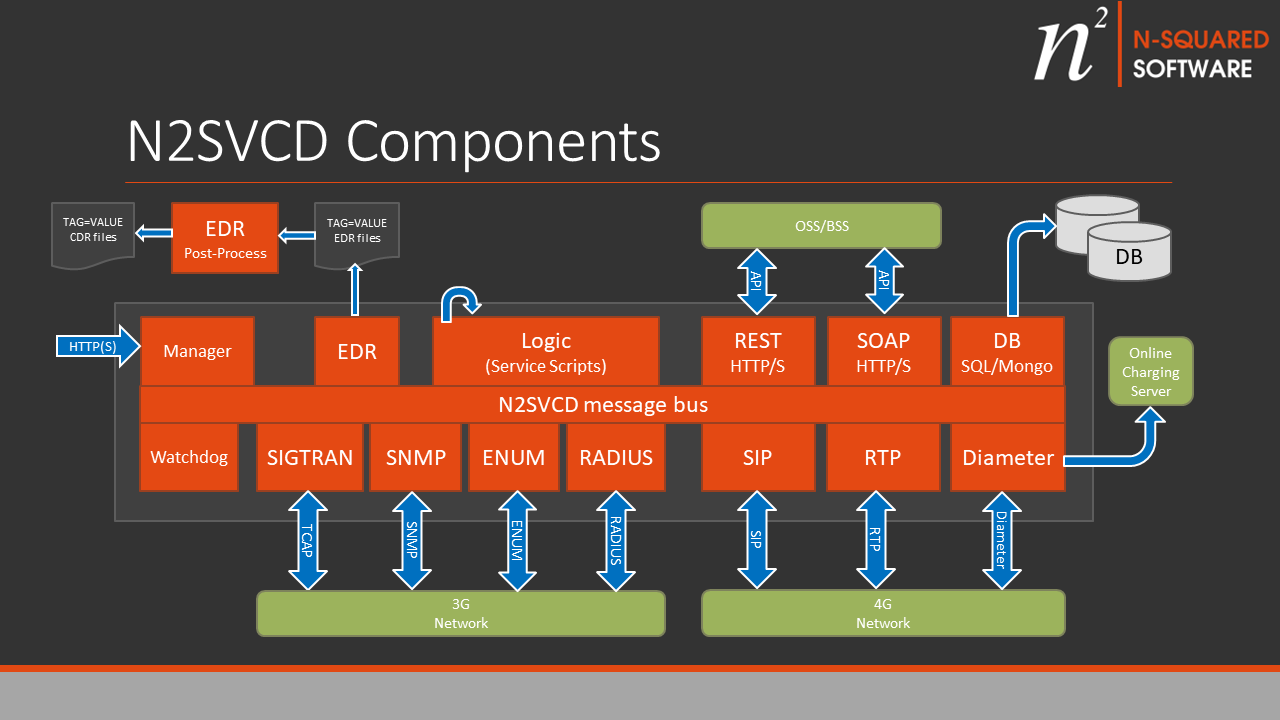 The primary applications are "Controller Applications" which implement value-added services:
ManageApp - Monitors running status of the N2SVCD service and contained applications.
TesterApp - Executes the test scripts created by the IN Tester GUI.
ScriptApp - Run simple scripts simulating an INAP SCP node.
The ScriptApp component is included as a simple example of an application which implements a TCAP SCP service. The N-Squared production-grade SCP services for TollFree, and for Convergent Calling are available in separate packages (n2tf, n2cc).
Other Applications included in this base package are "Helper Applications" - i.e. client interfaces to external server interfaces for a particular protocol.
SigtranApp - Agent for delivery of TCAP over SIGTRAN (SUA, M3UA, Loopback).
DiameterApp - Agent for sending DIAMETER requests to DIAMETER servers.
SMPPApp - Agent for sending/receiving SMPP requests (both Client and Server modes).
DBApp - Agent for sending asynchronous Database requests.
FTPApp - Agent for performing simple FTP file push/pull from an FTP server.
OSDApp - Agent for sending SOAP requests to the OC3C/OCNCC OSD service.
PIApp - Agent for sending requests in the MML protocol variant used by the OC3C/OCNCC PI.
FoxApp - Agent for sending requests to OCNCC VWS nodes using the OCNCC proprietary FOX protocol.
ENUMApp - Agent for sending requests to NetNumber ENUM API over SOAP.
HSSApp - Agent for sending requests to Huawei HSS API over MML..
The configuration for each of these Application Components is described here (see the relevant item under the N2SVCD Config menu).
TesterApp JSON-RPC Interface
This Technical Guide also contains the detailed Specification for the JSON-RPC Test Execution Interface provided by the TesterApp. The JSON-RPC Test Management interface is how the IN Tester GUI initiates test execution requests and queries in-progress test executions. External agents may use this interface to perform their own test execution directly, bypassing the IN Tester GUI.